Green Mountain Pure Butterghee
Internationally renowned and highly saleable in the Western and Arab World. Now available in Singapore and Peninsular Malaysia.
Product produced and packed in Belgium.
GREEN MOUNTAIN Pure Butterghee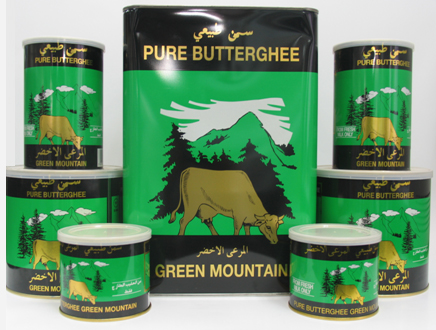 ENJOY THE REAL TASTE OF PURE GHEE
Produced and packed in Belgium in tins of net weight of:
1-lb. (454-gms)
2-lbs. (908-gms)
2-kg
15-kg
Prepared purely from fresh milk of dairy cows being free from additives, artificial colour and artificial flavour;  guaranteed by S. A. Corman of Belgium – a world leader in pure ghee.
Free from any vegetable or animal fat/oil; it can be used without doubt or restriction for any  traditional or religious purpose including for "prasad", "homum", ghee lamps and ayurvedic preparations.
COW BRAND HOLLAND VANASPATI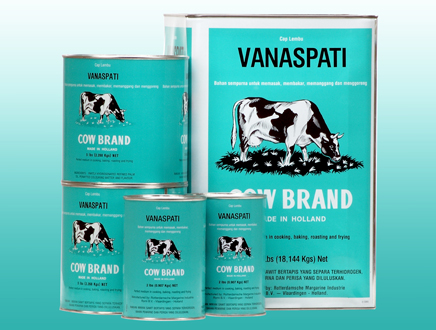 PERFECT COOKING MEDIUM
Produced and packed in Holland in tins of net weight of:
2-lb. (0.907-kg)
5-lbs. (2.269-kg)
40-lbs. (18.144-kg)
Composed purely from refined palm oil i.e. products that contain high levels of HDL or "good" cholesterol. Does not contain any milkfat or animal fat i.e. products that contain high levels of LDL or "bad" cholesterol.
With Trans Fatty Acid < 1%
Its additive, natural beta carotene, supports our body's immune system, giving this product a golden yellow colour, fine taste and excellent aroma, making it the perfect medium for cooking, baking, frying and roasting including for preparation of: "Nasi beriani", Nasi Minyak"
Various authentic Malay, Arab, South Indian and North Indian delicacies, with either chicken, mutton, seafood or vegetable content, whether in curry form or otherwise, served at home, wedding feasts and other festivities.
Variety of biscuits, cakes, sweetmeats and other savouries prepared in the Malay, Arab, South Indian and North Indian tradition during the respective festivities.

BAHAN MASAKAN UNGGUL
Diperbuat sepenuhnya dari minyak sawit yang bermutu tinggi.
Bahan penambahnya, beta carotene semulajadi, yang menyokong sistem kelalian badan, memberi warna kuning keemasan, rasa yang lazat dan keharuman yang unggul; menjadikannya bahan sempurna untuk memasak, membakar, menggoreng dan memanggang.
Digunakan untuk menghasilkan nasi beriani, nasi minyak, lauk-pauk, kuih-muih dan lain-lain masakan tradisional untuk musim perayaan dan kenduri-kendara, yang sungguh lazat lagi menyelerakan.
Diperbuat dan dibungkus di Holland dalam tin dengan berat bersih 2 paun (0.907-kg.), 5 paun (2.268-kg.) dan 40 paun (18.144-kg.)